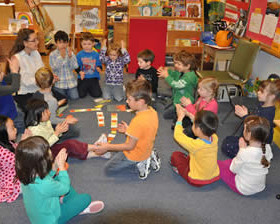 WELCOME NEW KINDERGARTEN FAMILIES!  THIS IS AN EXCITING TIME AS YOUR CHILDREN BEGIN THEIR NEW JOURNEY.
Kindergarten is such a very important year for our children and provides the opportunity to set initial conditions for love of learning and developing social skills with their peers.  Upon starting his/her kindergarten year, your child will move into an exciting new stage in his/her learning journey at Lake Hill School. We strive to create enriched and exciting personalized learning experiences for each of our students. Our Kindergarten program celebrates and embraces the concept of "Learning Through Play".
For more information on the Kindergarten Program and Early Learning,  please see the "Full Day Kindergarten Program Guide" and the "BC Early Learning Framework"  attached below.
The Full Day Kindergarten Program Guide was developed to support teachers, principals and others in creating high quality full day programs for Kindergarten. It sets expectations for full day Kindergarten programs in British Columbia, summarizes current research findings, and suggests effective practices that can be put to immediate use in schools and Kindergarten classrooms. This guide is intended to help educators ensure that Kindergarten students benefits from experiences that reflect current knowledge about children's learning and development.