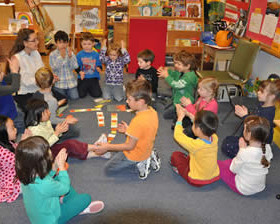 The First Step in an Incredible Adventure
Kindergarten Registration Week for the 2015-16 School Year:
 January 25 – 29, 2016 at your catchment area school between 8:00 am – 3:00 pm.

If your child is turning 5 years of age in 2016 (born in 2011), please come to Lake Hill School Office during the week of January 25th – January 29th to register him/her for Kindergarten for September 2016.
Please bring your child's birth certificate, proof of residence (i.e., utility bill) and Care Care when you come to register.
Call our Office at 250-479-2896 if you need more information.
Welcome to Kindergarten Parent Information Session  is on January 20th, 2016 at SJ Willis Education Centre. All parents are welcome! See what Kindergarten will be like for your child and receive registration information.
Kindergarten is such a very important year for our children and provides the opportunity to set initial conditions for love of learning and developing social skills with their peers.
Upon starting his/her kindergarten year, you child will move into an exciting new stage in his/her learning journey at Lake Hill School. We strive to create enriched and exciting personalized learning experiences for each of our students. Our Kindergarten program celebrates and embraces the concept of "Learning Through Play".
.
The Full Day Kindergarten Program Guide is available on the Ministry of Education website at:
http://www.bced.gov.bc.ca/early_learning/fdk/professional/resources.htm
The Full Day Kindergarten Program Guide was developed to support teachers, principals and others in creating high quality full day programs for Kindergarten. It sets expectations for full day Kindergarten programs in British Columbia, summarizes current research findings, and suggests effective practices that can be put to immediate use in schools and Kindergarten classrooms. This guide is intended to help educators ensure that Kindergarten students benefits from experiences that reflect current knowledge about children's learning and development.
The Full Day Kindergarten Program Guide builds on the philosophy of The Primary Program: A Framework for Teaching, and shares a vision of children as presented in the British Columbia Early Learning Framework.
For information on Full Day Kindergarten in Greater Victoria School District, please see:
Kindergarten in SD#61